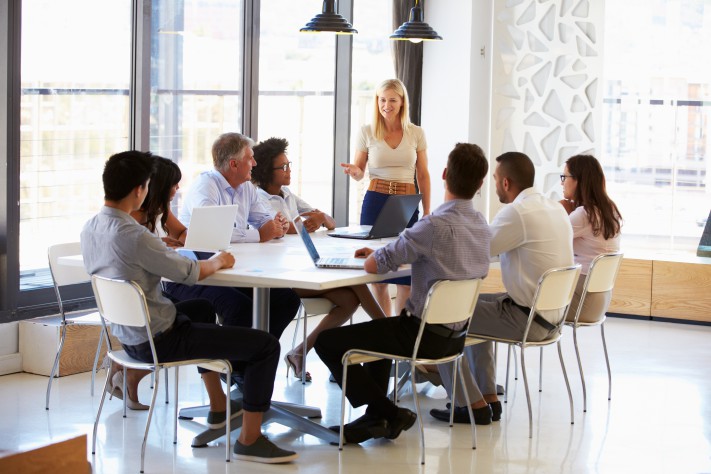 Posted On
May 9, 2017
Posted By:
Meetings are a necessary part of doing business, and essential to a team environment where there is input required from all of your colleagues. But if the mere mention of a meeting has your workforce running for the hills, maybe it's time to rethink your meeting strategy. Meetings should be productive, they should encourage new ideas through discussion, and help co-workers understand what others are concerned about. However, if half of the room tunes out before it's even begun, your meeting productivity is already out the window.
Here are some sure-fire meeting management tips to supercharge your productivity and maybe change the way your team comes to think of a meeting in general:
Meeting management rule #1: Be realistic.
Don't try to cover a hundred things in one hour. Having this kind of expectation always leads to the feeling that you didn't get anything done at all. Look at the key points you need to address, and focus on that.
 Meeting management rule #2: Make an agenda in advance.
Second to being realistic, having a clear agenda before you walk in is probably job one. take some time to consider everything that needs to be discussed, and prepare a list of topics to be covered, with bullets under each item to stimulate discussion. This will also help you remember to cover everything that needs to be addressed. Then, make a copy of this agenda for every attendee and have them ready at each chair when they arrive.
Meeting management rule #3: Make sure your technology works BEFORE you start the meeting.
There is nothing as frustrating and time wasting as taking 10-15 minutes to get your technology up and running. Make sure your meeting room is fully equipped with the latest technology and offers a plug and play environment so you can easily connect to devices such as a smart TV and a VOIP phone for conferencing
Meeting management rule #4: Everybody should have something to bring to the table.
Make it imperative that each person is responsible for one thing in the meeting. If it's a general meeting, then assign each individual to bring an issue into the meeting they would like to discuss. This will keep them on point through the proceedings and help them feel like they are actually contributing.
Meeting management rule #5: Only invite people who need to be there.
If you're talking about finance, you don't need sales and marketing personnel in your meeting. If it's about human resources, you don't need sales. Make sure the right people are at the meeting. If you only invite essential people, it will be easier to stay on track.
Meeting management rule #6: Don
'

t stray off topic.

Sometimes it's inevitable that the discussion goes off in another direction, but if you see it veering too far afield, even if it's interesting and valid in a broader sense, rein it in and table it for another time. You only have so much time.

Lakeside Executive Suites: your meeting productivity headquarters

If you are a small business, entrepreneur, solopreneur or startup company in Weston, FL, and you are looking for a place to call home, give us a call today. We help small businesses thrive with flexible options such as shared office space, virtual office services, meeting room rentals, and a collaborative coworking environment that is guaranteed to drive innovation. Come by for a tour, or drop us a line.