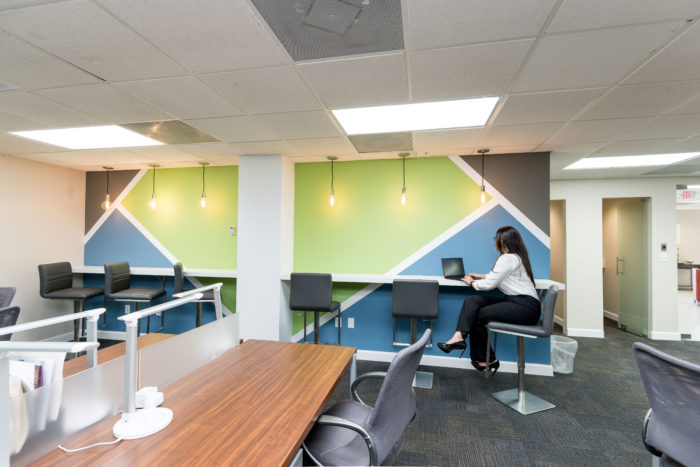 Posted On
April 16, 2019
Posted By:
With all the flexible office options available, you might be wondering what the differences are in each program and, ultimately, which one is right for you. If you are trying to decide between a dedicated desk and a coworking membership, we've put together a handy guide to help you make your choice.
Coworking: pros and cons
Coworking features an open-office environment and amenities like business-grade internet, copy machine, printers, and complimentary coffee and tea. You have 24/7 secure access, so you can work whenever you want, and on-demand amenities like meeting rooms and administrative support are available to you if you need them.
Coworking pros
Coworking is affordable. You can join for the day, week, month, or you could purchase a long-term membership for access to the space and all its amenities.
Coworking is flexible. You have complete freedom to come and go as you please or even discontinue your membership if you're not going to need the space for a while.
Coworking supports your business growth. If you need to hire new employees, you don't have to worry about outfitting a whole new office for them. Your coworking space allows you to scale up or down as needed.
Coworking is collaborative. Whether you find talented people to help you grow your business or connect with others who need your expertise, it's a vibrant and creative environment that can help you get where you want to be.
Coworking cons
Little to no privacy. Coworking is an open-office concept, so if you need to make a lot of phone calls or require quiet to do your work, you might not have much control over the situation.
You have to take your stuff with you when you leave. Since you are sharing a space, you don't leave your computer or other work items behind, which might be an inconvenience.
Lots of distractions. If you are easily distracted, a coworking space might encourage your procrastination.
Dedicated desk: pros and cons
Still unsure? Let's take a deeper dive and look at what a dedicated desk can offer:
Dedicated desk pros
You have your own desk. You have your own storage space, and you won't have to pack up your computer when you leave. If you prefer to work with multiple screens, this is great news.
Professional business address. A dedicated desk comes with access to our business address, which can be used on all your printed and online marketing collateral.
You can personalize your workspace with photos or desk amenities.
You have access to all the benefits of coworking, with an additional layer of features.
Dedicated desk cons
Potential for distractions. You are still in an open office, so the tone in the room can change quickly as people come and go.
You are stuck in one place, looking at the same view every day.
Dedicated desks are more expensive than coworking.
Still have questions? We'd love to help! Give us a call or drop by Lakeside Executive Suites to tour our facilities.